Is Invisalign the Right Solution For You?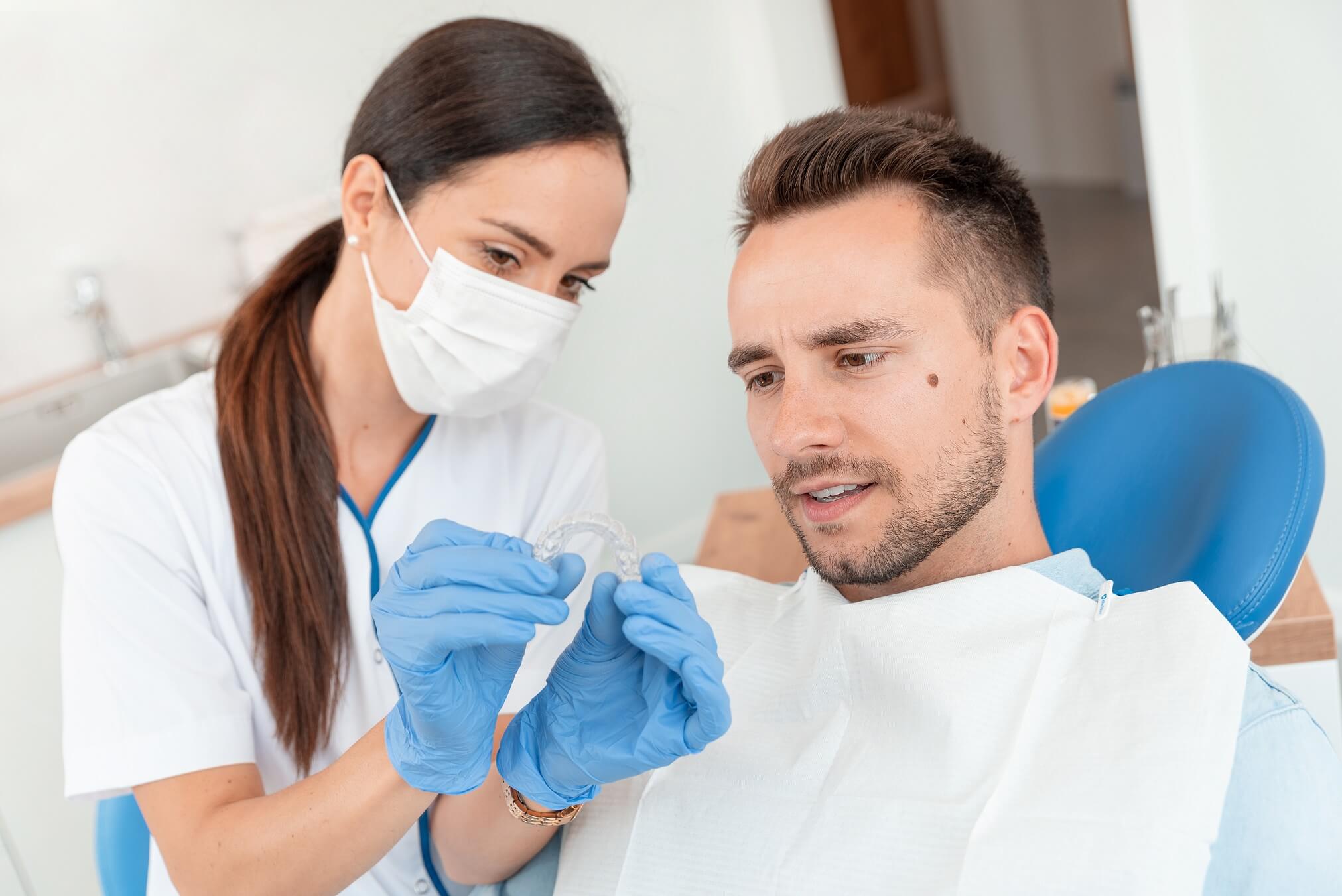 Is Invisalign® the Solution For You?
Depending on your straightening needs, Invisalign could be an attractive alternative to traditional metal braces. They are ideal for correcting crooked or overcrowded teeth, gaps, crossbites, underbites, and overbites. In most cases, highly intrusive metal braces are not needed for those types of dental problems.
Invisalign uses a gentler approach that involves wearing a series of clear plastic trays and buttons that are customized specifically to your teeth. After your dentist takes X-Rays and impressions of your teeth, a digital 3D image is created to map out the precise movement of your teeth and get an estimated time-frame for how long the treatment will take.
Approximately every two weeks you will wear a new set of aligners. With each new set, your teeth will gradually move into place getting you one step closer to that striking smile you have always wanted.
With Invisalign, there are no unsightly metal wires or brackets to poke the insides of your cheeks and gums. You won't have to live with the embarrassment of getting food items lodged in between braces. And since you need to remove them before eating, there is a reduced risk of developing gum disease and cavities which are common problems associated with metal braces.
See an San Antonio, TX Dentist About Invisalign
We have helped countless kids, teens, and adults across San Antonio, TX gain more confident smiles using Invisalign. Here are five reasons you should consider it too.
1. More attractive appearance
No unattractive metal
Natural looking teeth
Clear, nearly invisible
2. Safe for your teeth and mouth
No metal brackets or sharp wires
No protruding bits of metal
Won't negatively affect tooth enamel or decaying teeth
3. More comfortable to wear
Smooth plastic finish
Less pressure on jaws and teeth
Removable at any time
4. Get results faster
On average, Invisalign is worn for 1 to 1.5 years
Receive new aligners every two weeks
5. Easy and convenient to use
No food restrictions
Fewer checkups
Receive them from your regular dentist
How well the system works depends on your dedication to wearing the aligners as recommended by your dentist. They can be taken out to eat, brush and floss your teeth, but you should otherwise wear them for 20 to 22 hours a day for the duration of your treatment plan.
The cost is comparable to metal braces, and most dental insurance plans will cover Invisalign just as they would any other orthodontic treatment. If you don't have an insurance plan or cost is otherwise a concern, talk to your dentist about payment options.
To find out if Invisalign is the right solution for you book a consultation with San Antonio, TX's friendliest dentists, WH Family Dental.
Westover Family Dental Treatments For You: